Dental Implants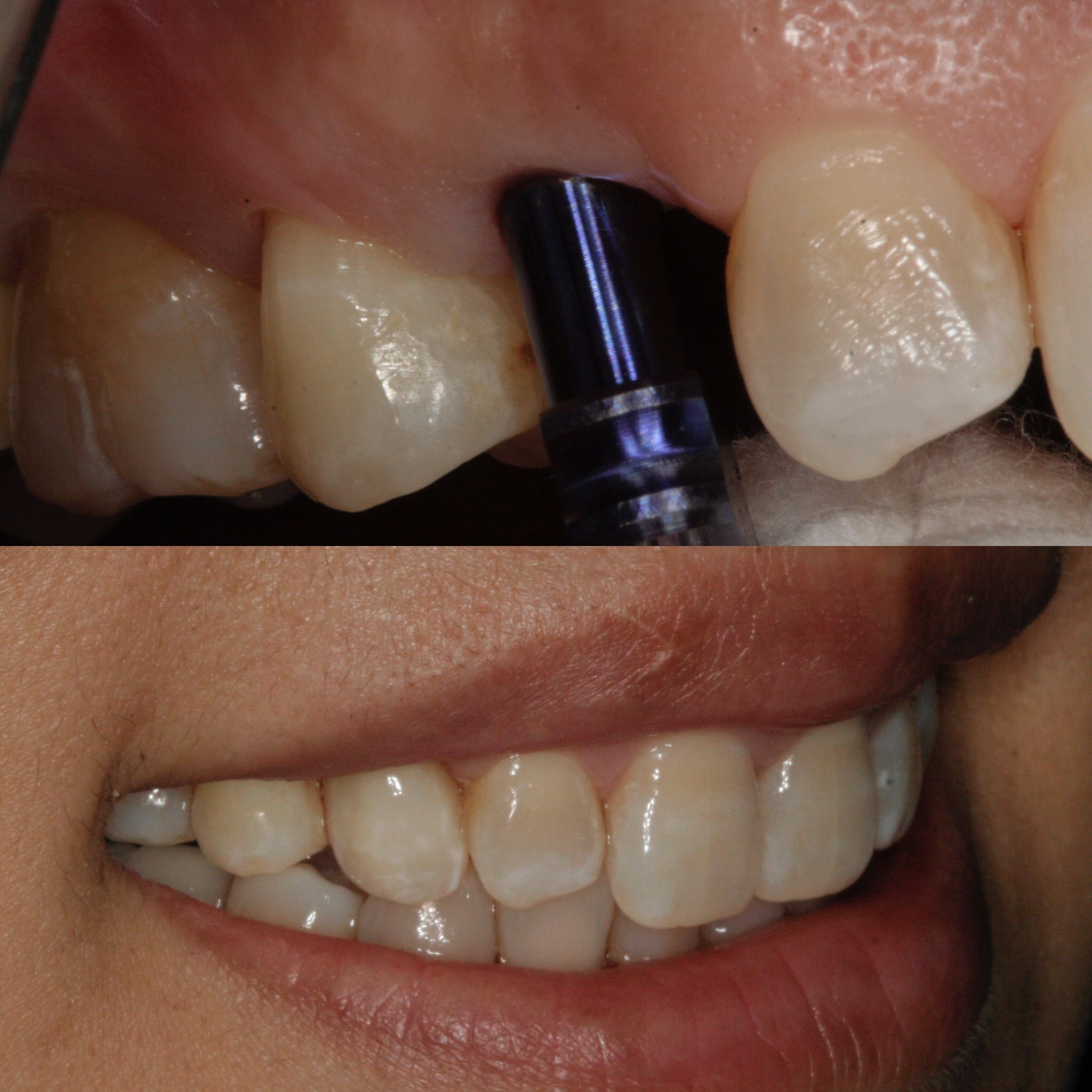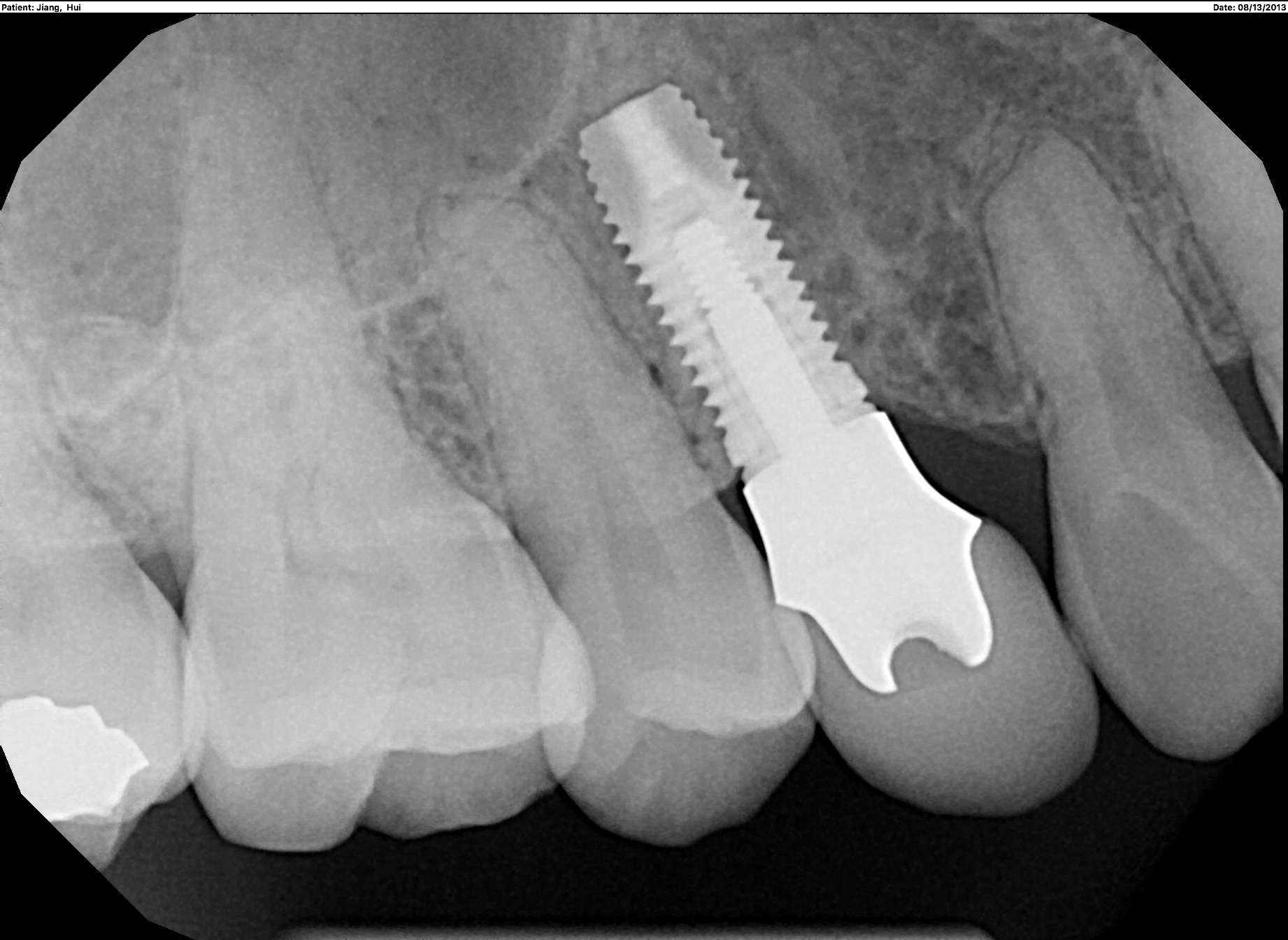 Dental implants are artificial replacement teeth designed to look, feel, and function like natural teeth. At Georgetown Cosmetic Dentistry, they are made of titanium and other materials compatible with the body's chemistry, so they do not experience rejection the way other foreign objects can. Dental implants can support a single dental crown or be used to hold a series of prosthetic teeth to replace an entire arch of missing teeth. Dental implants can also help a removable denture to prevent slippage and relines.
How Are Dental Implants Placed?
A dental implant consists of a titanium post surgically implanted into the jawbone, functioning like an anchor for a crown attached above the gumline. The implant fuses with the jawbone in a process called osseointegration, a process that can take several months of healing time to complete. Once the jaw has healed around the implant, it can safely support an abutment and dental crown without the risk of drifting out of place. Dental crowns are commonly placed over implants to restore the appearance of lost or damaged teeth. Since implants fuse to the jawbone, they provide increased stability compared to traditional dentures and other methods of tooth replacement.
Dental Implants Vs. Bridges
In the past, there used to be just three alternatives for replacing a missing tooth: having a bridge, getting a partial denture, or leaving the area open. A bridge is a fixed dental restoration that replaces one or more missing teeth and includes three to four dental crowns that have been fused together, with the end crowns resting on the teeth that are supporting them. It appears natural and indistinguishable in the mouth.
However, the advent of dental implants has made a significant change in the dental industry. Dental implants turned out to be a more dependable, less intrusive, and more durable tooth replacement option. So, if you're losing a tooth today, your two best alternatives for replacing it are often a dental bridge or an implant. Which, though, is the best? See the benefits of both:
The Benefits of Dental Implants
The most significant benefit of dental implants is the aesthetics of your smile. When you have teeth that are missing, even a single gap can make you feel self-conscious about your appearance. Replacing missing teeth with dental implants will give you a beautiful, confident smile so you can speak and chew comfortably without fearing embarrassment or discomfort.
Dental implants also help to prevent bone loss in your jaw because when you have one or more missing teeth, your jawbone will deteriorate over time as it no longer receives the same stimulation from your tooth roots. When you replace a tooth with an implant, the titanium rod will bond to the bone in your jaw, encouraging it to grow stronger and preventing future problems.
Finally, implants can help improve oral health by allowing you to enjoy all your favorite foods again. Since an implant is surgically placed into your mouth and secured to your jaw with a metal abutment and dental crown, it will feel just like a natural tooth in your mouth when you bite down to eat. As a result, you can go back to eating all the healthy foods you love rather than avoiding many of your favorite dishes because of missing teeth!
The Benefits of Dental Bridges
It only takes two trips to the dental office over the course of two weeks to get a dental bridge.
And with proper care and maintenance, a high-quality dental bridge can survive for several years.
The Disadvantages of Bridges
To support a bridge, healthy teeth are required. The neighboring teeth must be modified before the bridge can be put in place so that it may fit over them. This permanent loss of enamel will change the structure of the nearby healthy teeth.
Implants Vs Bridges
Dental implants are designed to provide a foundation for replacement teeth that look, feel, and function like natural teeth. The person who has lost teeth regains the ability to eat virtually anything and can smile with confidence, knowing that teeth appear natural and that facial contours will be preserved.
Dental implants are the only tooth replacement option that actually mimics your natural tooth root structure, providing stimulation to the jawbone and a natural appearance that's indistinguishable from a real tooth. Other options – such as a fixed bridge or removable partial denture – only work to replace missing teeth and do not maintain any stimulation of the jawbone. Over time, this can lead to the bone deteriorating over time, which may require a bone graft procedure to preserve the health of the jaw. With dental implants, however, the titanium post provides the necessary stimulation to prevent bone deterioration. Patients also report feeling better about themselves and more confident while speaking in public with dental implants than with other options.
Dental implants also have the highest success rate of any modern dental treatment (98%). This means they are not likely to fail.
You can speak clearly again, thanks to your dental implant restoration. With multiple anchoring points, your new tooth won't slip or slide while you speak. In addition, you won't have any dietary restrictions since you can eat your favorite foods the same way you did before.
Since implant-retained teeth look and feel just like natural teeth, you can enjoy an improved quality of life in more ways than one.
Additionally, dental implants are durable; they are likely to last your lifetime with proper care. Dental implants also improve your oral health by replacing missing tooth roots and preventing the shifting of neighboring teeth into empty spaces.
While most patients with missing teeth are good candidates for dental implants, you must consult Dr. Roshan to determine if dental implants are right for you. Visit Georgetown Cosmetic Dentistry at 2440 M Street, NW, Suite 328, Washington, DC 20037, or call (202) 785-4141 to learn more about dental implants.